Okay, so Lindsay over at Bytes of Memory clued me in on this "challenge." Once again, starting late, but the beauty of this challenge is I can choose which books I want to read and change my list if I don't think I will make it. I am so glad it is not too late to join this challenge! And of course these books will count toward the
100+ challenge
. As I only have a month and a half to read these books I can get a idea how many books I will be able to read each month so I can pace myself for the rest of the year. Here is my list of books I hope to read by June 20th (and I would sure love to know how everyone is able to get images of the books they are reading in their post, if anyone could give me a heads up):
Christian Suspense (also for the
Thriller and Suspense challenge
):
Deadline by Randy Alcorn
Dominion by Randy Alcorn
Last Light by Terri Blackstock
Night Light by Terri Blackstock
Non-Fiction:
Einstein Never Used Flash Cards by Kathy Kirsh-Pasek and Roberta Michnick Golinkoff (need to finish this one)
The Baby Signing Book by Sara Bingham (also one I need to finish)
School Can Wait by Raymond S. Moore
Better Late Than Early: A New Approach to Your Child's Education by Raymond S. Moore
The Power of Play by David Elkind (also need to finish)
Writing Stories: Fantastic Fiction from start to finish by David L Harrison
Nancy Drew: for the
Nancy Drew Challenge
:
The Secret of the Old Clock by Carolyn Keene
The Hidden Staircase by Carolyn Keene
The Bungalow Mystery by Carolyn Keene
The Mystery at Lilac Inn by Carolyn Keene
I have an updated list
here
So there you have it. If you would like to join me in this challenge just head on over to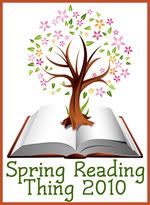 Here's a brief recap of how to be a part of Spring Reading Thing 2010:
Make a list of books you want to read (or finish reading) this spring. Your list can be as long or as short as you'd like. (Also, feel free to modify your list during the challenge if it's not working for you.)
Write a blog post containing your list and submit it to the Spring Reading Thing post.
Get reading! The challenge goes from today, March 20th, through June 20th, 2010.
Check out other participants' lists and add to your own to-read-someday pile!
Write a post about your challenge experience in June, telling us all about whether you reached your goals and how the Spring Reading Thing went for you. But remember: this is a low-pressure challenge that should be fun. As long as you do some reading this spring (and enjoy it!), that's good enough for me.